2022 IWRF World Championship awarded to Vejle
The IWRF is delighted to announce that the 2022 Wheelchair Rugby World Championship has been awarded to Denmark.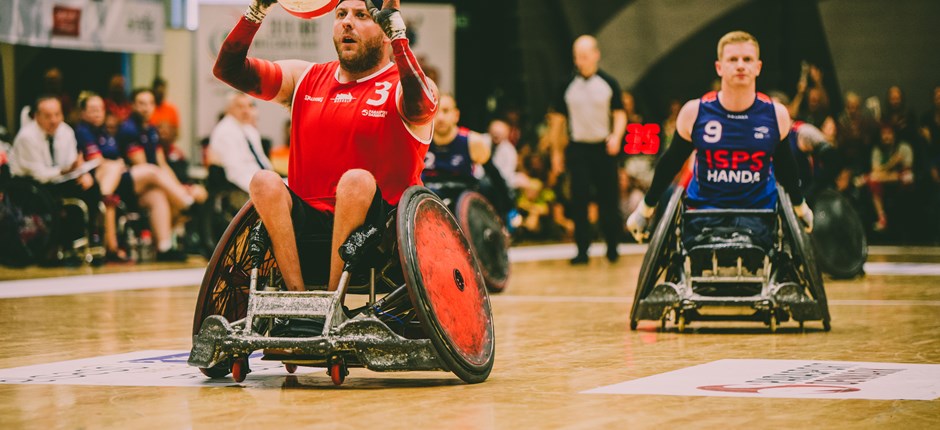 The World Championship will take place in Vejle, Denmark, 8 – 17 October 2022. The Local Organising Committee consists of Parasport Denmark, Wheelchair Rugby Committee Denmark, Sport Event Denmark and the Municipality of Vejle.
IWRF President Richard Allcroft said:
- I am really pleased to be looking ahead to our World Championship in 2022. I enjoyed visiting the Municipality of Vejle for the 2019 European Championship. The work, commitment and passion that has gone into the event bid is to be applauded. We will also be working with the organising committee in support of their offer to support achieving parts of the IWRF strategic plan through events at the Championship. This will certainly be a significant legacy for the event.
Head of IWRF Competitions Kathy Newman added:
- Once again Denmark has stepped up to host the 2022 IWRF World Championship.  Parasport Denmark has a rich history in hosting parasport and we thank them for their continued commitment.  Their vision is to grow the sport globally, build strong partnerships and present the best world championship ever. The IWRF Competitions Committee was really impressed with the quality of the bid and the commitment from the Municipality of Vejle and Sport Event Denmark to support the delivery of the championship.  We look forward to working with the Local Organizing Committee to help Parasport Denmark and the IWRF realize their shared vision.
The top 12 teams in the world will play off to see who is crowned world champion over 6 days of exciting wheelchair rugby.
Dan Arnløv Jørgensen, Deputy Mayor and Chairman of the Committee of Culture and Sports in the Municipality of Vejle:
- We are very proud to have been chosen to host the 2022 IWRF World Championship in Vejle. We want to build on the success of the European Championships in 2019, and once again emphasize that Vejle is the capital of para sport. We look forward to working with the IWRF, Parasport Denmark, Sport Event Denmark and the many great local volunteers here in Vejle to create another fantastic event.
Lars Lundov, CEO of Sport Event Denmark:
- At a time where we are all looking forward to the return of major sporting events, it's great news that Denmark has been awarded the 2022 Wheelchair Rugby World Championship. At Sport Event Denmark, we are excited to able to once again welcome the world to another amazing para sport event along with Vejle, Parasport Danmark and the IWRF.
John Petersson, Chairman of Parasport Danmark (NPC Denmark):
- We are honored and consider it a great privilege to have been awarded the 2022 IWRF World Championship. We can't wait to once again fill the stands in DGI Huset in Vejle and provide the best players with the absolute best conditions to succeed on the court and put on a show.