Day 2 Wrap-up: Three big stories from Tuesday in Vejle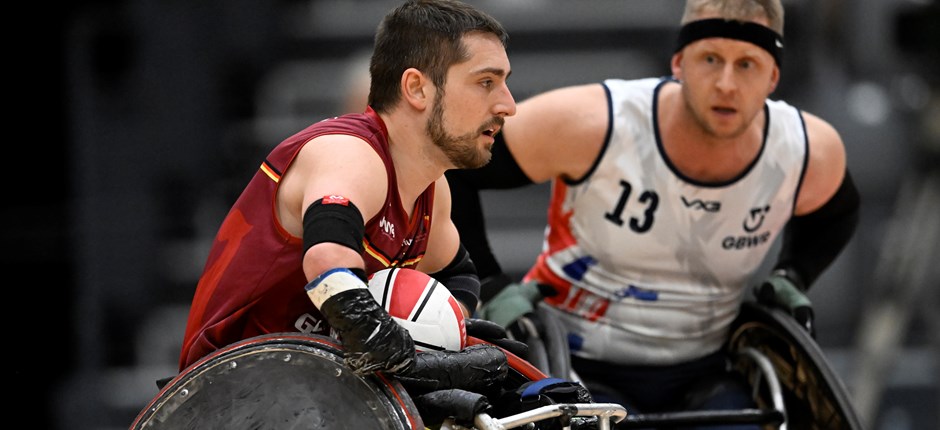 Japan and Denmark treat the fans to an overtime thriller
Japan (2-0) and Denmark (1-1)  put on a show for the fans at DGI Huset Vejle as the hosts showed their mettle in a back-and-forth match with the reigning World Champions. The match ended in a 61-60 win for the world No. 1 Japan, the final try scored just before the whistle.
Boosted by local support, it was the seventh-ranked Danes who took the lead going into the second quarter, briefly extending their advantage to three tries against the experienced Japanese squad.
 While Japan struggled to turn the game in their favor, they overcame the speed and the aggressiveness of the Danes in a display of teamwork.
Japan, the bronze medalists at last year's Tokyo 2020 Paralympic Games, were playing their second game of the day, just hours after beating Colombia 60-34. Youngster Katsuya Hashimoto was named the player of the match against the South American team.
"I knew this game was going to be tough because Denmark have kind of been just feeling us out. I think they were staging for this moment because they really wanted to showcase how well they are playing," said head coach Kevin Orr.
"I said at the beginning of this that the Top 8 teams are all equally matched," he added.
After the match, both teams thanked the fans for their support.
"I love them. They are so great. It's so fantastic to have them," Denmark's Mark Peters said. "When you score, you can hear nothing but the crowd, it's so fantastic here."
Australia show their skill against Canada
Australian Paralympian and head coach Brad Dubberley picked his 200th and 201st wins in charge of Australia as the Steelers got off to a 2-0 in Vejle. The Steelers opened the day with a convincing 57-36 win over Brazil before taking on Canada in a much closer affair.
Australia (2-0) got off to a hot start against Canada (0-1), forcing a couple of turnovers and applying intense defensive pressure. The Steelers led 15-13 after the first, 28-25 at halftime and never let the Canadians retake the lead in an impressive 55-53 win.
Team captain and two-time Paralympic gold medalist Chris Bond said the team's aggressive start was key to the victory.
"We got a really good start, had a great first quarter, got some time outs off them and we just rode the waves because we knew they'd come back at us."
Bond believes that playing in close matches like today's will be a real benefit to his team as they push for the finals. 
"This was our hardest competition to date and it goes to show we've got games like that in us, and we're going to need to play games like that come finals time" said Bond.
Australia now sit with Japan at the top of Pool B.
Great Britain survive Germany's upset bid
Paralympic champions Great Britain (2-0) fought off an inspired upset bid from the 10th-ranked Germans (0-2) to remain undefeated.
Coming off of a tough loss earlier in the day to USA (1-0), the German team bounced and came ready to play against GB. They got out to an early lead behind the fantastic play of their starting line-up of Marco Herbst, Josco Wilke, Steffen Wecke and Britta Kripke who spread the court and moved the ball well throughout the match.
However, Great Britain's depth helped see them through and they outscored the opposition 15-10 in the final quarter to win 55-52.
Great Britain speedster Aaron Phipps was complementary of Germany after the match
"Germany played the best I've ever seen them play, the way they moved the ball, you've got to hand it to them."
Other action
5th seed France (2-0) also had a great day picking up wins over New Zealand (1-1) and Switzerland (0-2) to send a message that they're here to compete for a medal.
Colombia (1-1) won the first-ever all South American match-up at the World Championship 54-46 over Brazil (0-2) who are competing hard and battling through adversity at their first World Championship.