Day 3 Wrap-up: France take control
It was another exciting day at the 2022 Wheelchair Rugby World Championship in Denmark as pool play continued and Friday's quarterfinals began to take shape. Here are the big stories from Day 3 in Vejle.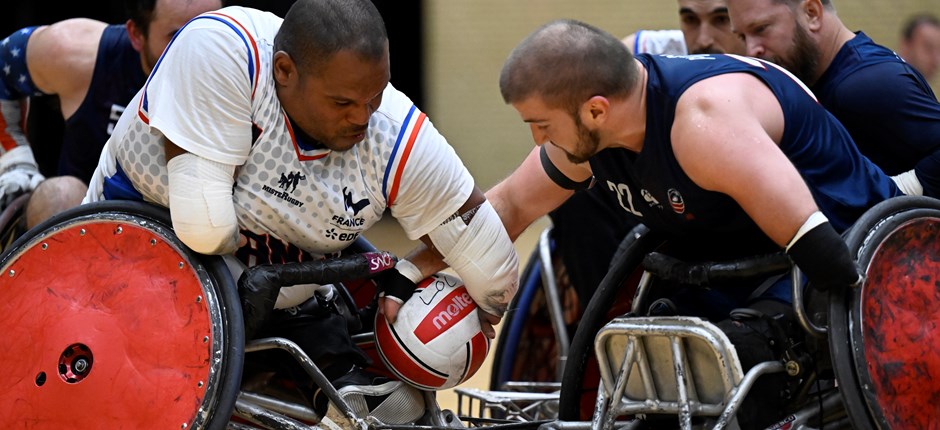 The European champions France continued to roll on Day 3 as they had two dramatic victories over the United States and Great Britain.
Les Bleus opened the day against the United States and despite facing a 26-23 halftime deficit, they clawed their way back thanks to an aggressive defense that found ways to force and capitalize on USA's mistakes to win 49-48. 
The win was France's first-ever against the USA and France's co-captain Jonathan Hivernat called it an "incredible moment" as they push forward in the tournament.
France kept the momentum going in the evening as Hivernat recorded a late steal and score to help France record a 55-54 win in the final seconds of the match.
Head coach Bob Vanacker says his team has a mission in Vejle.
"We've proven that we can beat anybody on any day, what we've showed today is that we have the ambition for a medal," he said.
With one pool game left to go against Germany, France is in prime position to finish on top of Pool A heading into Day 4.
Japan and Australia set to collide for the Top Spot in Pool B
The two finalists of the last World Championship are on a collision course in Pool B. Both teams have perfect records so far and are set to meet for the first time since the bronze medal match in Tokyo.
Fast, physical and full of talent up and down the roster, it's going to be an exciting chess match between coaches Kevin Orr and Brad Dubberly on the sidelines and the two teams on the court.
On Wednesday, the Tokyo 2020 bronze medalists Japan beat Canada 52-47 in the morning before taking down Brazil 58-37. Australia took down hosts Denmark 55-43 in their only match of the day.
Australian captain Chris Bond said he is looking forward to the match against Japan on Thursday afternoon - their first clash since the Steelers' 60-52 defeat at Tokyo 2020.
"It's always a good tight battle with us, and I'm looking forward to hopefully getting one on them," he said.
Meanwhile, Japan captain Yukinobu Ike expressed caution.
"At this tournament, the world's top teams are very close in terms of level," he said. "Especially Australia, who we will play next, have speedy and strong high-pointers so we need to stop them from picking up the momentum, and we need to focus on winning together as a team."
Unbelievable atmosphere in Vejle
With pulsating music, thunder-sticks, t-shirt cannons and a little fire, this year's World Championship is taking the spectacle of wheelchair rugby to a whole new level.
There's real electricity in the air at the DGI Huset Vejle.  Over a thousand fans were in attendance to watch the hosts Denmark battle Colombia and Australia. This professional, high-energy atmosphere has been a big hit with the players, who according to Australian captain Bond dream of moments like this.
"It's pretty cool. This is why we do it. Most of us always spend time in our home gyms training with nobody, pretending there is glory and clapping, and there might be our mom and dad in the crowd in our social competitions."
"It's really cool that up here at the highest level, we get the crowd and we almost feel like professional athletes. It's a really good feeling, that's what we put all the hard work into, to get an atmosphere like this."
The Danish fans have truly embraced wheelchair rugby and it's fantastic to see as the sport grows in profile.