Day 4 Wrap-up: Top eight teams advance
With the weeklong Wheelchair Rugby World Championship halfway done, eight teams have booked their spots in the quarterfinals. Defending world champions Japan and reigning European champions France finished pool play with perfect 5-0 records.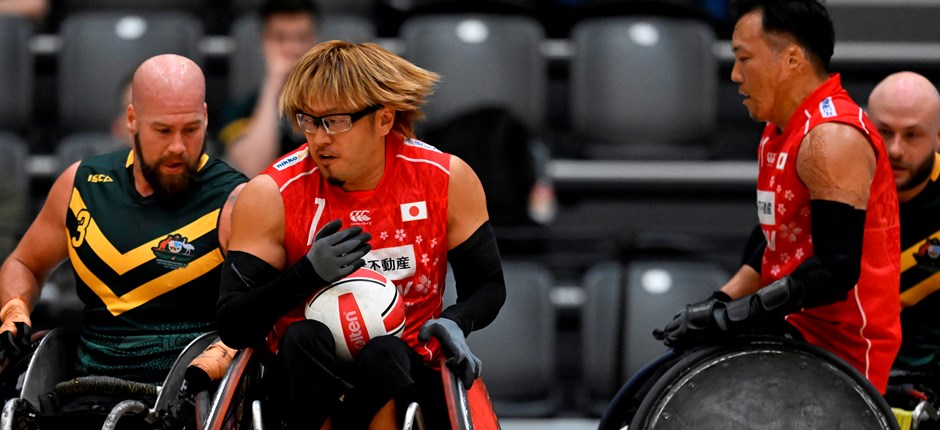 Here is everything you need to know about Day 4 in Vejle.
Japan and Australia clash in Pool B
The two finalists from the 2018 World Championship met to decide the winner of Pool B. Both teams entered the match with identical 4-0 records and lived up to their world rankings and reputations in a fast paced match that included 110 tries between the two teams. 
Japan ended up on top in the latest chapter of the Asia/Oceania Zone rivalry 56-54.
"Mentally, this was the toughest match of the preliminaries. Being able to face the fourth team of the other pool will give us some ease physically as we move up in the competition, so we will need to make the most of that in terms of results," Japan captain Yukinobu Ike said.
"I think it is a wonderful thing that we advanced to the knockout stage by winning all five of our games."
New Zealand secure spot in knockout stage
New Zealand picked up their second win of the tournament, a 50-46 over Germany, that guaranteed them a spot in the quarterfinals.
It was tight and cagey match-up with a number of fouls and several players hitting the floor multiple times as both sides clawed for every inch and a place in the Top 8.
While the Wheel Blacks have competed at every world championship since the inaugural tournament in 1995, they finished near the bottom of the 12-team field at the previous tournament in Sydney.
"It's satisfying, a lot of relief. We're very disappointed how we went at the last world championships so it's bloody good to guarantee a top-eight finish and from here we can start," Cameron Leslie, co-captain of the team, said.
Denmark end pool play with loss to Canada
While hosts Denmark have thrived on the back of support by their home crowd, they ended their pool campaign in a close 58-56 loss to Canada.
Canadian star 3.5 Zak Madell proved to be too much to handle for the Danish defense as he tallied an unbelievable 41 tries to lead his team to victory.
Denmark's Mark Peters promised wheelchair rugby fans another close, but great game in tomorrow's clash against France. The Danes secured a ticket to the Tokyo 2020 Paralympic Games when they beat the French in their previous meeting.
"I think it's going to be an awesome game again, a hard game, a close game, so it's going to be an awesome game again," Peters said. 
Quarterfinal matchups decided
The quarterfinals are now set following the conclusion of pool play. All of the Top 8 seeds have moved onto the next stage of the competition with regional rivalries set to take center stage on Friday!
The first quarterfinal of the day will take place between Japan and New Zealand at 11:00 a.m. CEST.
These two teams have played each other many times in recent years and it's going to be intriguing to see how the underdog Wheel Blacks challenge the reigning champions from Japan.
At 2:45 p.m, one of the oldest rivalries in the sport takes over the spotlight. Canada and the United States will meet at their ninth consecutive world championship. 
These two teams know each other very well and face each other often. It's always a physical and aggressive match when these two titans of the sport clash.
In the prime-time slot at 5pm, European champions France will hope to keep their excellent form going as they face Denmark. The arena will be rocking as both teams look to make the medal round for the first time. 
Will France continue their red-hot run of form or will the home crowd propel the Great Danes to new heights? The world will find out on Friday night. 
The last of the four quarterfinals sees Australia match-up with Great Britain in what should be a battle of contrasting styles. 
Australia's dominant hi-lo line with dynamic duo of 3.5s Ryley Batt and Chris Bond up against Great Britain's more balanced approach with three ball handlers often on court to spread the defense out and move the ball.
It's been several years since these two sides have met at a major competition and it should be a fun match for spectators to watch as the past two Paralympic champions clash. 
This is the first time the tournament has had quarterfinals. This exciting new round should add plenty of drama and tension to the championship for fans, coaches and players.