Day 6 Wrap-up: Australia and USA reach finals
Semifinal Saturday at the 2022 Wheelchair Rugby World Championship didn't disappoint as the final four teams fought for a place in the gold medal game.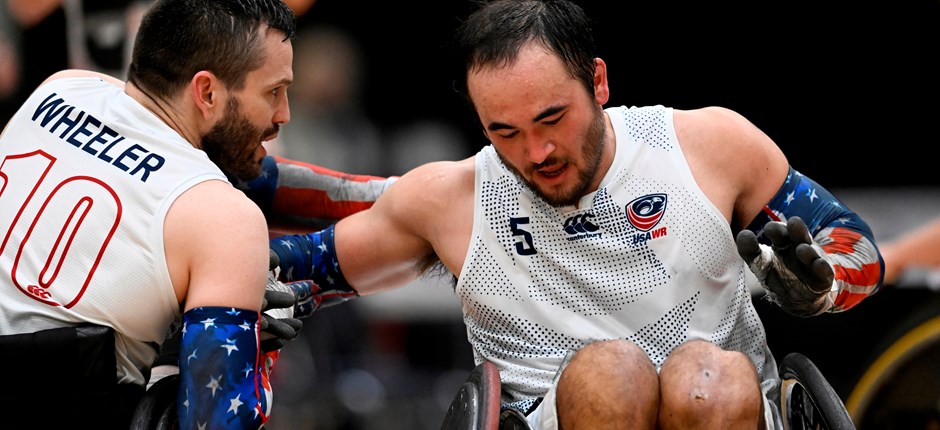 Australia 56 Denmark 55
Facing off for the second time this tournament, the two sides exchanged tries up until the final minutes of the third quarter when the Australians claimed a 2-try advantage. From there, the Steelers kept the lead in the final eight minutes.
In front of a crowd of 1,300,  a couple of mistakes by the Danish team proved costly, the Australians were able to execute on their clock management strategy, scoring the final try of the third quarter and first of the fourth of the quarter to take a 3-try lead that proved unsurmountable despite a valiant effort from the hosts.
"They had a fifth player on court in the whole game with the Danish crowd and they were very very loud and behind them," Australia captain Chris Bond said.
"It was a very clean game of rugby, only five turnovers for every team so very clean and cool. Very high level, both teams fought very hard. We got lucky bounces and we did all the work early to allow us to have a buffer to make a few mistakes in the end and win."
Speaking before the second semifinal match, Bond said he expects the final to be a close match.
"Japan or the U.S., both great rivals of ours, we've played finals against both of them before, so it's going to be a very hotly contested, very close finals game, I think. Bring it on," he said.
The rivalry runs deep with the two teams having met in three Paralympic (2000, 2008, 2016) and one previous World Championship final (2010). USA has won three of the four prior meetings, but it was Australia who prevailed 59-58 in double overtime at the Rio 2016 Paralympic Games.
While it was a heartbreak for the home team, Denmark's Sebastian Frederiksen said he won't be too upset with the result because they gave their best on the court.
"It was a huge game. We started off really well and kept at it the whole game. But they keep getting the final tries, and that made the difference today," he said. "Now we just need to relax and get ready for another big game."
USA 57 Japan 52
A hot start proved to be the key to victory for the United States as the Eagles' pressure defense forced Japan into early turnovers and helped the Americans build a 5 try lead at halftime that they wouldn't relinquish for the rest of the game.
"We hit them, it's a full-contact sport and we brought it early and it resulted in some early turnovers that they don't usually make. It worked in our favor," co-captain Chuck Aoki said.
The Eagles co-captain was a force on court with 33 tries, 14 pass assists and 4 steals in the pivotal semifinal.
"He's one of the best players in the world," said head coach Joe Delagrave. "The guy is cerebral and has so much strength, you can't make a video game player better than that." 
Playing as defending champions, captain Yukinobu Ike said that Japan should have been more flexible and should have taken the courage to change their strategy when they were behind.
"All I can say is that I'm disappointed," he said. "We didn't really click in terms of timing among the players and that resulted in how we played early in the match. If we were able to keep the U.S. lead limited to two tries or so, it might have been easier for us to turn the game around."
USA moves on to play in their sixth World Championship final, while Japan will battle for bronze on Sunday.
Other action
Canada pulled away from New Zealand in the 2nd half to win 60-49 and will face France tomorrow for 5th place after the European champions beat Great Britain 51-48.
New Zealand and Great Britain will play each other for 7th place.
Brazil claimed their first win of the tournament, beating Switzerland 48-44 in the classification match for 11th and 12th place. The Brazillians dealt with plenty of adversity during their first world championship, but were able to end their campaign on a winning note.
Competing in their second world championship, Colombia defeated Germany 54-49 to finish the tournament in 9th place. Carlos Montoya said he was proud of the team's progress in Vejle.
"It's amazing to be here because we are in the group of the world's best teams in this sport. Not only are we here, being able to finish this tournament in 9th place is wonderful," he said.