DAY 7 WRAP-UP: Australia crowned champions at the 2022 Wheelchair Rugby World Championships
The Australian Steelers claimed their second world title on Sunday at the DGI Huset in Vejle, defeating the USA 58-55. The Bronze medal went to Japan, who beat host country Denmark 61-57.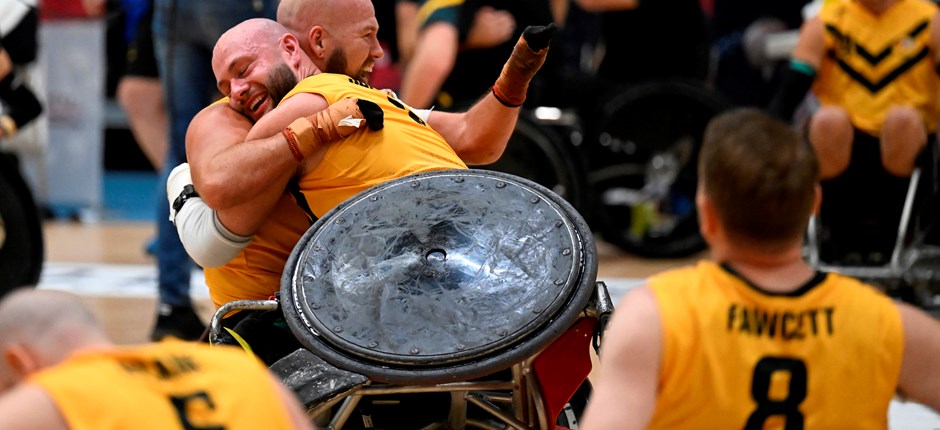 Gold medal match: Australia 58 USA 55
The old rivalry between the United States and Australia opened a new chapter, with the Steelers lifting the championship trophy following a thrilling match against the Eagles.
Ryley Batt led the way for Australia with 41 tries and 8 pass assists in a dominant performance on the biggest stage. He came up with a huge interception late in the third quarter to give Australia a two-point lead that they would not lose for the rest of the way.
The connection between Batt and captain Chris Bond was on full display in the final. The dynamic duo soaked up pressure and connected on many long passes throughout the match. 
"A lot of people wrote us off, but being able to play against America in the final, they played amazing. I'm just really really happy that we sat on top of that podium and we're world champs again. Let's enjoy this moment," Batt said.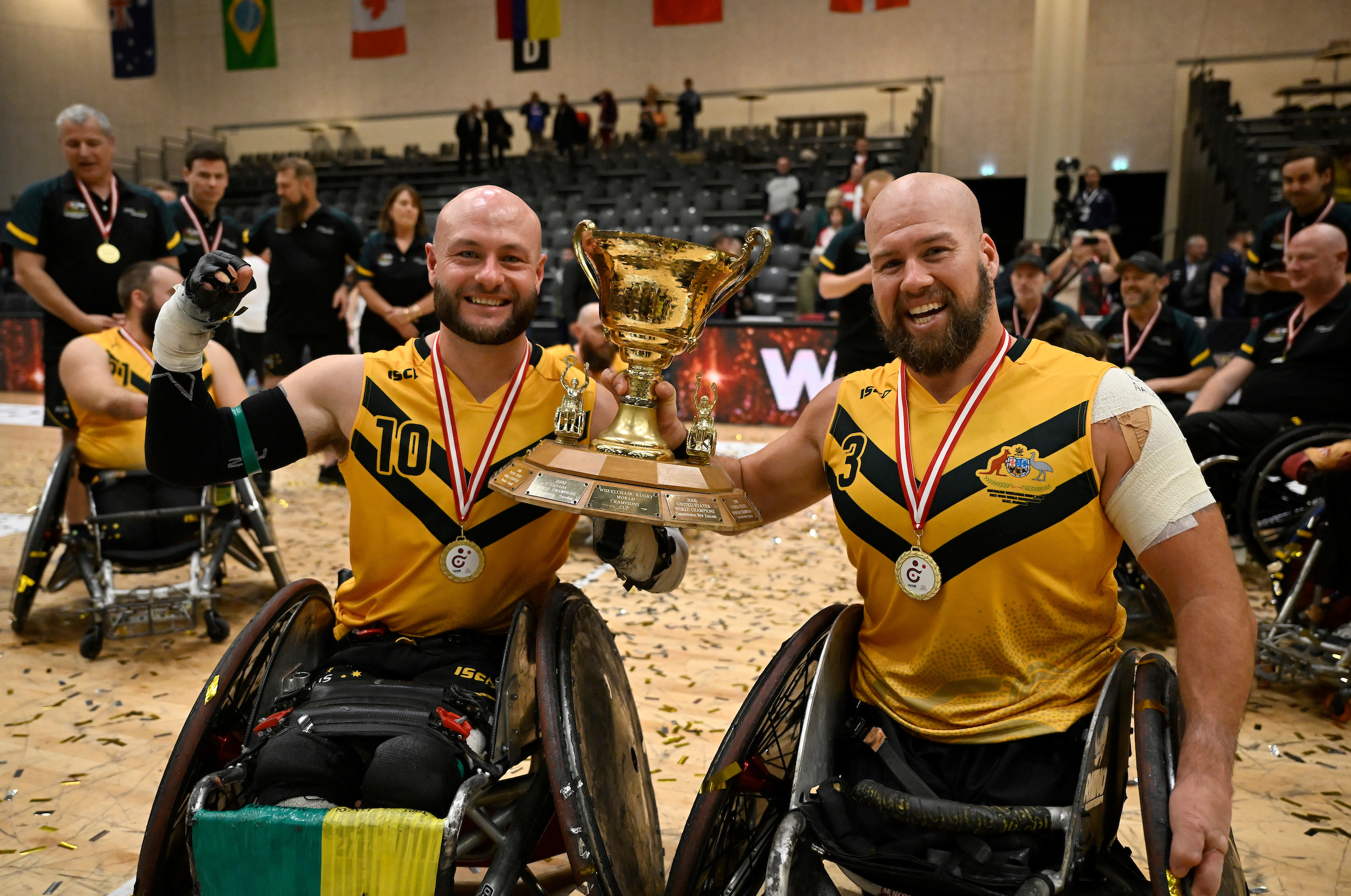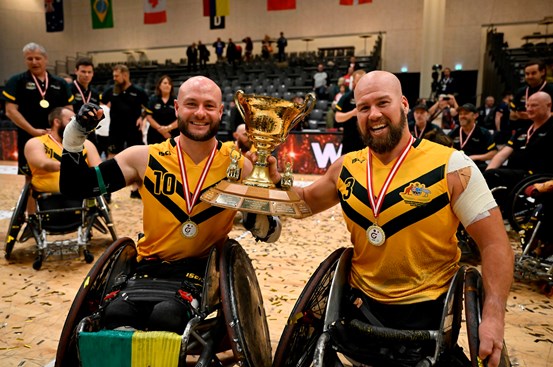 The rivalry runs deep with the two teams having met in three Paralympic and the previous world championship final. USA won three of the four prior meetings, but it was Australia who prevailed 59-58 in double overtime at the Rio 2016 Paralympic Games.
The tournament was Team USA's first world championship under Joe Delagrave, a former player who retired from competition in November. He was a key member of the team at the Tokyo 2020 Paralympic Games, where they finished with a silver medal.
The United States' streak of podium appearances at the world championships continues, as they have medaled at every edition since the inaugural championship in 1995.  

Bronze medal match: Japan 61 Denmark 57
Defending champions Japan recovered from their semifinal loss to the United States with a 61-57 win over host team Denmark. Japan brought their speed to the game for a four-try lead at halftime, and the world No. 1 side never gave up the advantage.
The two teams faced off at this tournament for the second time. Japan edged past the hosts 61-60 in overtime on Tuesday.
"We were able to deliver everything we have as a team. Our last match against Denmark was very tough, but I think we were able to improve our performance. We played good rugby," Japan captain Yukinobu Ike said.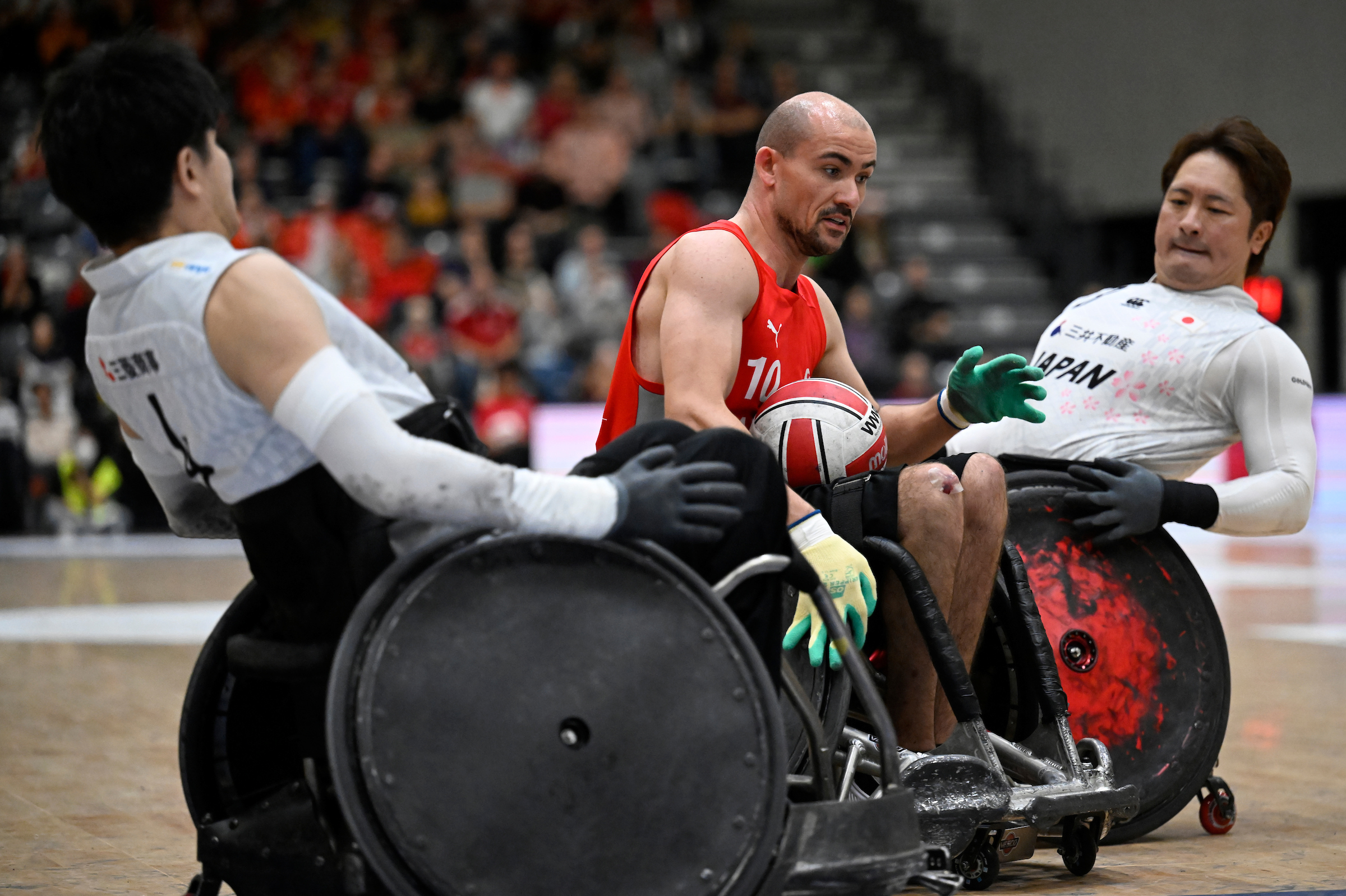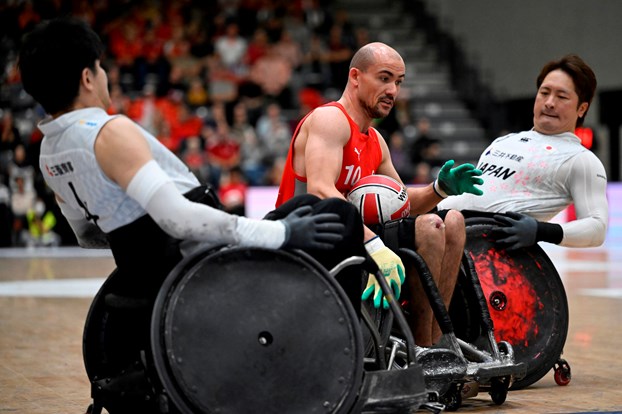 Playing in front of a sold-out crowd, the home team also provided their fans with lots to be proud of. Sebastian Frederiksen scored 21 tries and Mark Peters crossed 20 times, but the two high-pointers struggled to get past Japan's tight defense.
Denmark, coached by Jason Regier, were competing in their first medal match at a world championships. They beat European champions France in the quarters before falling to Australia 56-55 in Saturday's semifinals.
"We didn't start today as well as we hoped to, and we weren't able to score in every attacking opportunity, which was something we were good at throughout this tournament," said Denmark captain Leon Joergensen.
 "We have done great here (at the worlds) and improved our game throughout. We have proven that we can participate at this level, so we have plenty to work on," he said.
Other action
Canada finished the tournament in fifth place after defeating European champions France 60-48. Great Britain won their final match in Vejle, beating New Zealand 52-49 to secure seventh place.

Final standings
Gold: Australia
Silver: USA
Bronze: Japan
4th place: Denmark
5th place: Canada
6th place: France
7th place: Great Britain
8th place: New Zealand
9th place: Colombia
10th place: Germany
11th place: Brazil
12th place: Switzerland