Fans bring smiles to players as Wheelchair Rugby World Championship reaches halfway point
Hundreds of wheelchair rugby fans from around the world have gathered in the Danish city of Vejle for the Wheelchair Rugby World Championship, creating an amazing atmosphere at the venue and bringing smile to athletes.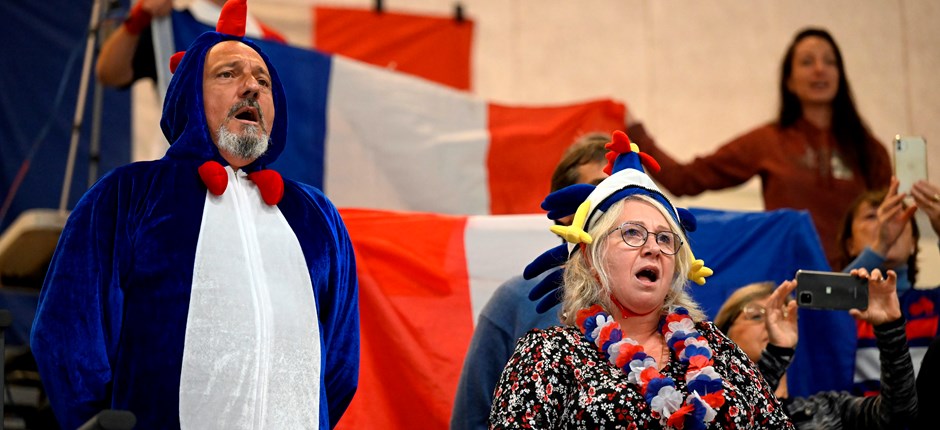 The tournament, which reached its midway point on Wednesday, has seen family and friends of the players, as well as people newly introduced to the sport. Pupils attending local schools have also watched matches since the tournament opened on Oct. 10.
More than 1,100 people attended an early morning match on Wednesday between Denmark and Colombia, and they exploded as the hosts pulled off a 52-44 win. Fans dressed in red cheered and made their presence felt every moment of the game.
Perhaps the loudest fan was Daniel Hoeier, a friend of Denmark player Sebastian Frederiksen, who brought a large drum. He and his friends have taken the week off from work to watch all of the host team's games.
"It's easy to fall in love with wheelchair rugby. I mean, look around, what's not to like? Everybody is happy, everybody is cheering also for the opponents' team. Everybody is just happy and it's amazing."
"We are following the team all the way, hopefully they will get to the final," said Hoeier, who traveled from a town near Copenhagen. "We have agreed with Sebastian that now that we have taken the vacation for the whole week, he also has to perform. We have done our part, so now it is his turn."
Chie Dehara and Yuna Narumi, two Japanese students currently studying in Denmark, were among fans who watched a wheelchair rugby match for the first time.
"I fell in love with the sport, and I think I'll continue watching more matches," said Dehara. Narumi said, "I was so surprised that so many tries are scored in such a short time. It's a very exciting sport."
Players enjoy the crowd
Throughout the tournament, players of all sides have shared their experience of playing in front of a large and loud crowd.
Frederiksen, Denmark's star player, said the host team's matches are like a "big party."
"A lot of people are coming in, a lot of my friends and family, my teammates' friends and family," he said. "To be honest, sometimes I'm a little bit jealous of not being up with them because they seem to be having so much fun. I hope more people will join because it's a big party."
After playing against Denmark on Wednesday night, Chris Bond, the captain of the Australian Steelers, said it was "awesome" to see the host nation earning so much support and encouraged more Danish people to join.
"It's pretty cool. This is why we do it. Most of us always spend in our home gyms training with nobody, pretending there is glory and clapping, and there might be our mom and dad in the crowd in our social competitions."
"It's really cool that up here at the highest level, we get the crowd and we almost feel like professional athletes. It's a really good feeling, that's what we put all the hard work into, to get an atmosphere like this."
"And when you win, it's like an icing on the cake."
Not just for Denmark
While the hosts have the largest following in Vejle, visiting teams also have their group of supporters.
Switzerland have vocal fans holding the Swiss flag, the USA have supporters with photos of the players.
France, the reigning European champions, are backed by family members who make huge impressions in the stands, including the father of Jordan Ducret who was wearing a costume of a rooster when the team defeated four-time world champions the USA.
"All families come to support them. We all follow the players," said Christine Ducret, the mother of the player. "We are so happy because America's team have so many big players, so we are so happy that France won."
Among other excited supporters, a female fan traveled all the way from Canada and watched her first-ever wheelchair rugby game.
Asked if she would recommend people to travel to watch a wheelchair rugby game, she  said, "Absolutely do it. The sport is just amazing"