The world's best wheelchair rugby players are heading for Denmark
A fascinating sporting experience is guaranteed when the 2022 Wheelchair Rugby World Championship tips off on Monday, 10 October, in Vejle, Denmark. The host country will face Brazil in the opening match with HRH Princess Benedikte in attendance.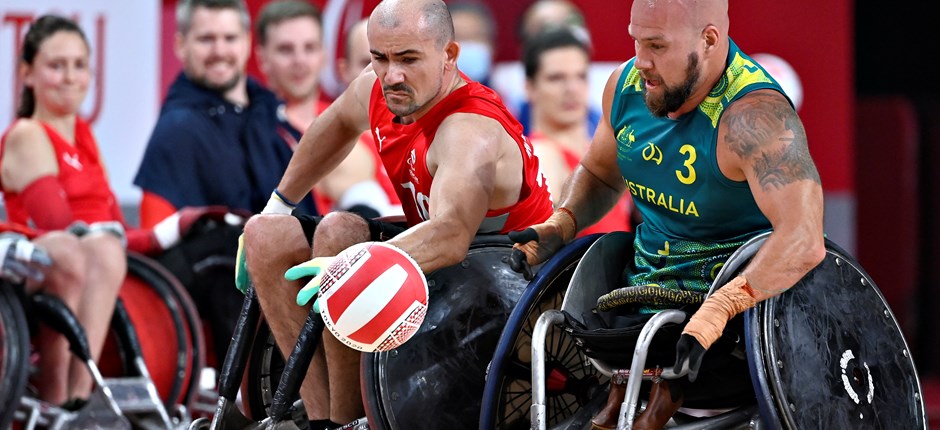 The world's 139 best wheelchair rugby players from 12 nations are heading to Vejle in Denmark and are ready to fight for the World Championship trophy from October 10-16.  The Danish hosts will give players and the spectators a unique experience in an intense sport with the best teams being almost equal.
- On the court, it will be an exciting championship, where more teams than ever can come out on top. In the past, powerful nations such as Australia, the USA, Japan, and Canada have sat firmly at the top of international wheelchair rugby. Still, in recent years European teams such as Great Britain, France, and Denmark have been able to match them. Hopefully, an enthusiastic home crowd can give the Danish national team the extra powers. In any case, I dare to promise that it will be both enjoyable and exciting, said Parasport Denmark's president, John Petersson.
He is pleased that the Danish hosts, after a successful European Championships in 2019, have managed to build on top of that and create an even more enticing event experience this time:
- In close cooperation with Sport Event Denmark and Vejle Municipality, we have gone all in and raised the level in many areas. The spectator experience, in particular, will be a smashing. I hope many Danes will take the opportunity to experience this, he said.
Also the TV coverage will be in a completely different league this time with all of Denmark's matches shown on national television, DR2.
The entire city is involved
In 2019, the European Championship in wheelchair rugby was staged in Vejle. The Capital of Parasport's excellent love for parasport and wheelchair rugby was evident with impressive local support and sold-out stands. Spectator capacity has therefore been considerably increased for the World Championship. In addition, this time, even more, thought has been put into creating an overall experience with a fan zone, city dressing, and various activities.
Mayor Jens Ejner Christensen is pleased that the World Championship will not only be a great sporting experience for the participants. The entire city is also  invited to the festivities:
- We look forward to welcoming the World when Vejle is the host city for the 2022 Wheelchair Rugby World Championship. We are serious when we brand ourselves as the 'Capital of Parasport'. We know that the citizens and the local businesses are ready to support the para-athletes and create a vast public celebration. In any case, expectations are high after a terrific Wheelchair Rugby European Championship in 2019 here in Vejle, said Jens Ejner Christensen, Mayor of Vejle Municipality.
In Sport Event Denmark, director Lars Lundov is also looking forward to a great experience in Vejle:
- The 2022 Wheelchair Rugby World Championship will be a fantastic event. The sport is hugely entertaining, and the Danish national team can compete with the best. Vejle is committed to para-events and other significant events. In addition, the Danish organizers have a goal of making a super nice event. It will be a great week, and we would like to have more of that in the coming years, both wheelchair rugby and other parasports.
Royal visit on opening day
The 2022 Wheelchair Rugby World Championship starts on Monday October 10 with an opening ceremony at 16 hours and with the participation of HRH Princess Benedikte, the patron of Parasport Denmark, Vejle mayor Jens Ejner Christensen, and Parasport Denmark's president John Petersson. The Danish national team faces Brazil at 5 pm.
Due to the Princess's participation, press registration for this part will be necessary. It must be done no later than 10 October at 11 am to press officer Jannik Lund Andersen, jla@parasport.dk, or tel. 51 27 17 60.
label