Vejle now has its own wheelchair rugby club
On October 10, the world's best wheelchair rugby players will come to Vejle for the 2022 World Championship. Interest for the sport has long been growing in Vejle, and players have come together to form a new, local team.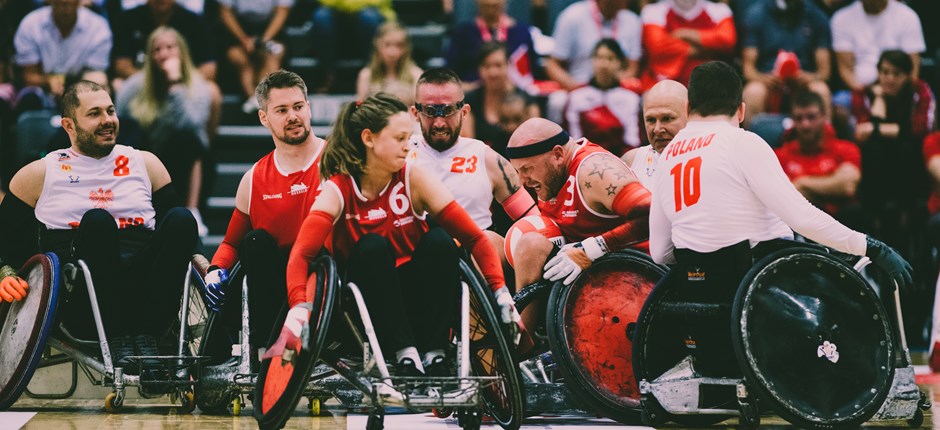 If you haven't witnessed wheelchair rugby before, prepare to be blown away. It's a sport filled with tempo, tackling and tactics.
One month before the start of the World Championship in Vejle, the city now has its own club, where nine players have reported for the first practice session. President of the local Parasport Council, Tage Schmidt, is very happy with the development.
- The local grassroots sports have really embraced para sport, and every time we add a new option to the growing list of options for persons with disabilities, it's a win for inclusion. Adding a new wheelchair rugby club – and just before the World Championship – is really the icing on the cake, he said.
Coached by students
The new wheelchair rugby team will practice at Vejle Idrætshøjskole – a local folk high school focused on sports and physical education. Select students will serve as coaches for the new team. According to Torben Nygaard, sports consultant at Parasport Denmark, that is a great future investment.
- Many of these you people will continue in the world of sports as coaches and leaders. It can only be a great benefit, that they already at a young age gain knowledge and appreciation of para sport, he said.
The new Vejle-based is a collaboration between Parasport Denmark, Vejle Parasport Council and Vejle Idrætshøjskole. First practice is Thursday, September 8.
The Capital of Para Sport
Since 2015, Vejle has dedicated itself towards becoming the Danish Capital of Para Sport, and in 2016 a local council was formed to focus on the inclusion of para sport in the local grassroots sports-scene. Since then, many new possibilities have seen the light of day for persons with disabilities, including electric wheelchair hockey and boxing for persons with Parkinson's Disease.
-  Since we labeled ourselves the Capital of Para Sport, the level of ambition and activities has been on the rise. We are now working to include para sport not only in the existing clubs but also to make sure that local day care institutions for persons with disabilities prioritize sports as a part of daily life, said Tage Schmidt.
The Para Sport Council in Vejle has also had a lot of success attracting major sporting events along with Parasport Denmark and Sport Event Denmark. The list includes the 2015 ITTF Para Table Tennis European Championship and the upcoming 2022 Wheelchair Rugby World Championship.