World Championship draw completed in Vejle
The draw for the 2022 WWR Wheelchair Rugby World Championship was held on Thursday July 7 in the Town Centre of Vejle in Denmark, which hosts the highly anticipated follow-up to Tokyo 2020 from October 10 to 16.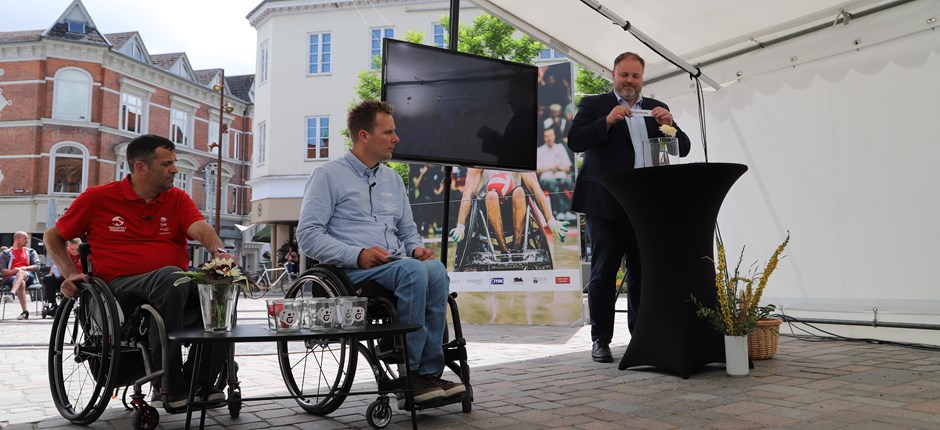 After the first 10 teams had been drawn into pools A and B, it was up to Denmark head coach Jason Regier to select a destination for his Danish side. Denmark hopes to win a first World Championship medal on home soil this fall and will have to contend with Japan, Australia, Canada, Brazil and Colombia in the early stages of the tournament.  
Jason Regier explained his reasoning afterwards. 
- You just go what gives us the best chance to get into the quarterfinals. It's pick your poison. The top six or eight teams are so strong and can all get into the semifinals. I wish it was scientific and easy, but it was a really tough decision. It'll be pretty amazing to play the South American teams though, even if it is a bit of a risk of the unknown, Jason Regier said.  
In Pool A, Paralympic champions Great Britain and fellow European teams France, Germany and Switzerland are joined by USA and New Zealand. 
With the draw completed, the match schedule will be finalized over the course of the coming weeks. One thing has already been decided, however. Denmark will be on the court for the opening tip-off on October 10 at 5 PM. 
Event Director Torben Nygaard from Parasport Denmark was excited to take another big step towards that date and the start of yet another great wheelchair rugby event on Danish soil.  
- It's been a fun experience doing the draw here in the Town Centre of Vejle, and 95 days from now, this place is going to be a truly spectacular setting for the World Championship. Along with our partners in Vejle and Sport Event Denmark, we are thrilled to be welcoming back the wheelchair rugby community for the fifth major championship since 2005, and with the draw completed, we can really start looking forward to some spectacular matchups and wheelchair rugby action, said Torben Nygaard.
Rewatch the live draw on Facebook here.
POOL A
Great Britain
USA
France
New Zealand
Germany
Switzerland
POOL B
Australia
Japan
Canada
Denmark
Brazil
Colombia
About the 2022 Wheelchair Rugby World Championship
Denmark will host the 2022 Wheelchair Rugby World Championship in DGI Huset Vejle. Parasport Danmark (NPC Denmark) and World Wheelchair Rugby (WWR) will organize the event with the Municipality of Vejle and Sport Event Denmark.
The event is supported by Parasport Danmarks main sponsors JYSK, Pressalit and Elsass Fonden, as well as Musholm, main sponsor of wheelchair rugby in Denmark.
Japan are defending world champions and lead the lates WWR World Rankings List ahead of Great Britain and USA. 
WWR President Richard Allcroft on returning to Vejle:
I remember pushing down the street in Vejle and seeing the banners flying promoting our sport. It was 2019 and the European Championship was in town. This reception was matched by the people I met from the city and Parasport Denmark. As we talked over a traditional Danish lunch, the conversation already turned to how we could return. Planting that seed with the thought of hosting the World Championship in 2022 grew.
And here we are, just over 12 weeks until we see the best 12 teams in the world being welcomed back. The organising committee have been working hard to make this a memorable and world-class Championship. The host nation will be making the most of their home team advantage and building on their performance from the recent European Championship in Paris and the Tokyo Paralympics.
For those that haven't seen Paralympic wheelchair rugby before, come along and watch our exciting sport. You will enjoy the day. For all those spectators that are returning you will be guaranteed to see the best nations in the world competing in our fast-paced and full contact sport.
Thank you to all involved in making this happen. I look forward to seeing you in Denmark in October.
Kind regards Richard Allcroft
WWR President